All bathroom ware products supplied by Symphony Shower Systems carry our Quality Assurance and Product Warranty. We use the highest quality materials available and manufacture these in accordance with New Zealand specifications and requirements to ensure that all products are fit for the intended purpose for which they are designed. Our customer's peace of mind is of paramount importance to us.
Warranty Periods
Showers:  10 years
Drop In Baths:  10 years
Shower Screens and Doors:  10 years
Black Coating on Framework:  5 years
Freestanding Baths:  5 years
Dezine Range Showers**:  5 years
Accessories:  2 years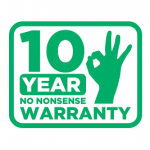 Warranty Exclusions
The product must be installed according to the instructions supplied
The water supply temperature applied to the product must not exceed 55 degrees Celsius
Commercial applications (where products are installed in a building where occupancy is via a commercial arrangement i.e. rental property, hotel, hostel etc.) are restricted to a 2 year warranty on all products
**Dezine range has good quality plastic bodied rollers and plastic handles which are suitable for normal everyday use in your own home. For environments such as rental homes and accommodation properties we recommend our Curvato and Aquero ranges with more solid features and greater durability
Five Star Quality Assurance
All our trays have a 40mm high upstand for maximum water protection.
All trays are solid acrylic construction; the most robust material for long-term reliability. Central or corner waste on selected models.
For your safety – doors feature quality safety glass manufactured under licence. Compliant to NZ AS/NZ S2208 Safety Standards.
All walls are 2mm Durosan® Premium Acrylic one-piece quality sanitaryware acrylic walls. Manufactured in Europe to EN263 and EN13559 standards, approved for NZ conditions. Tested and approved by Sika NZ. Folded and moulded in New Zealand.
Dual carriage metal top and bottom rollers. Smooth open and close action, easy and precise adjustments on top roller.
Looking to buy Symphony Shower Systems products?